[ << Back ]

Naked Photos of Loretta Goggi are available at FemaleStars.com. They currently feature Nude Pics, Biographies, Video Clips, Articles, and Movie Reviews of famous stars.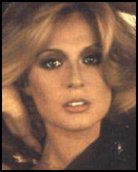 Loretta Goggi
Birthday: 1950
Below is a complete filmography (list of movies she's appeared in) for Loretta Goggi. If you have any corrections or additions, please email us at corrections@CelebMart.com. We'd also be interested in any trivia or other information you have.

Biography
Started at the age of 9 playing a small role in the Anton Giulio Majano's Sotto Processo. She was last seen in the sit-com "Due per tre" opposite Johnny Dorelli. Goggi is also an acclaimed singer and her records have always entered the Italian pop charts. Her sister Daniela is an artist as well.

Biography courtesy of the Internet Movie Database (www.imdb.com).

Movie Credits
Click a movie's title to search for it at Amazon.com